Sealed Enclosures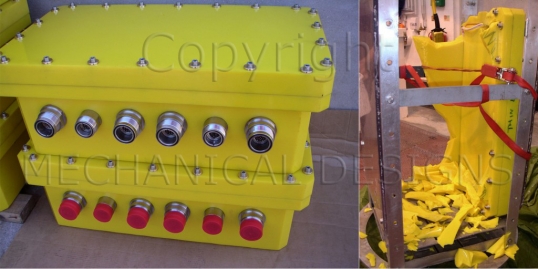 Zoom
Back in 2002 a niche was identified for pressure resistant enclosures. The Sealed Enclosures website promoted a design and build service, making housings to order. Over a period of time it became clearer what were the more common requirements, from this a range of Rigid Polyurethane housings were developed to meet the needs of those putting equipment in flood zones or underwater with depths up to 70 meters.
Customers for these enclosures tend to be Military, Oceanographic or Oil and Gas. The picture shows the Sea Chest prepared for use as a junction box on and Oil Rig installation. Back in 2003 this was the first of its kind and required a test to destruction to prove its capability. The Sea Chest pictured imploded at 58 bar, inline with our calculations and beyond the customers expectations. Since then the Sea Chest has gone on proving its durability in the harsh subsea environment, ordered repeatedly by this customer and by many others working offshore.
We currently no longer supply the rigid polyurethane enclosures, however we do still offer CNC machined aluminium enclosures (Click here for more details).
Project details